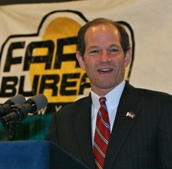 Gov. Eliot Spitzer announced the formation yesterday of a state panel to develop strategies to allow all New Yorkers to get access to high-speed Internet service. The panel, the New York State Council for Universal Broadband, will recommend ways to extend high-speed access beyond traditional methods and to extend broadband connections to underserved rural and urban areas, the governor said.
In his speech, Spitzer set targets: affordable universal access @ 20Mbps statewide, with 100Mbps in metro areas, by 2015.
One of the Council's first actions will be to distribute $5 million in grants.
The panel will be led by the state's chief information officer, Melodie Mayberry-Stewart.
"The importance of developing a statewide broadband strategy cannot be overstated," said Mayberry-Stewart. "Through strong collaborative public/private partnerships we can create an environment across New York State that fosters innovation, life-long learning and economic growth through greater use of technology. Governor Spitzer has a clear vision to address our challenge and I look forward to working with the Council to develop cooperative, innovative solutions for the benefit of all New Yorkers."
"As we build an Innovation Economy we must make New York the most connected and technologically advanced place to live and do business in the world," said Spitzer. "Internet access is no longer a luxury. We must implement a strategy that leads to every New Yorker having access to affordable, high-speed Internet so that they may take advantage of the economic, social and cultural opportunities it provides."
This Universal Broadband initiative is a key component of the First Lady's I Live New York initiative aimed at attracting and retaining New York's next generation.
"Developing innovative strategies and collaborative partnerships is at the core of our I Live New York initiative," said First Lady Silda Wall Spitzer. "At our September 18th summit, young people identified access to digital services as a key determinant in their decisions of where to live and work. I'm so pleased Dr. Mayberry-Stewart and the Broadband Council have taken the lead to expand broadband service across our state."
Press release. Transcription / video of the announcement (Ffwd to 12:33).